Laminate Flooring Adelaide
A welcome alternative to wooden flooring is modern laminate flooring. Laminates are hugely popular in Europe, and no wonder with the enormous range of colours and styles. Laminates replicate the look of timber and are available in 1-strip, 2-strip & 3-strip styles, exactly the same as the original wooden flooring. They have high abrasion resistance and anti-static qualities, making them easy to clean.
Laminate designs are available in classics such as Oak, Maple, Beech & Walnut. More modern examples include Brushbox, Jarrah & Blackbutt and are all suitable options for any decor.
Features and Benefits:
Uniclic system to provide quick install and no open joints
Looks stylish and is also hard wearing
Fully compatible with underfloor heating
Easy to clean
Underlays available to easily provide reduced sound transmission for apartments and commercial buildings
Perfect for commercial premises such as shops and offices, and tenanted premises including rented apartments
Laminate Flooring Products...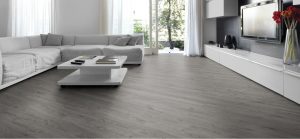 If you are looking for the best Laminate products and Laminate Flooring Adelaide services please contact us to day for a free quote on 0466 158 605